Top 10 Iceland Waterfalls - Breathtakingly Beautiful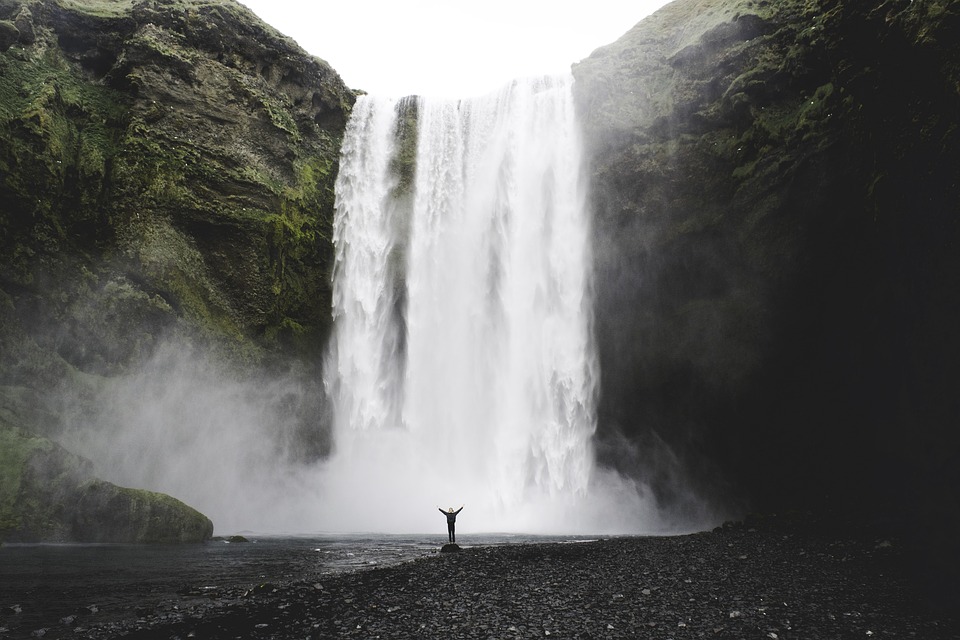 A country known for being nestled in natural beauty, and boasting of luxurious bubbling springs. In Icelandic nature, the best attractions come from the unique lava formations. Of our top 10 favorite Iceland waterfalls, at least three of them rank on the worlds top 10 list.
See the Magical Power of Mother Nature
If you've come to see her best work, you're going to want to check out some of  the best waterfalls in the world! That's right, it's time to go chasing Iceland waterfalls in the  immaculate beauty that is Iceland! But considering, Iceland is a place with numerous  attractions, it can be hard to whittle down the important ones to stop at.
So to help with the decision making process, check out this list of the top waterfalls everyone should see when visiting Iceland. If the term "waterfall hunting" exists, then Icelandic nature would be the ideal place to do it! Do it in a camper van from us and make sure you have all the time in the world exploring.
1. Hraunfossar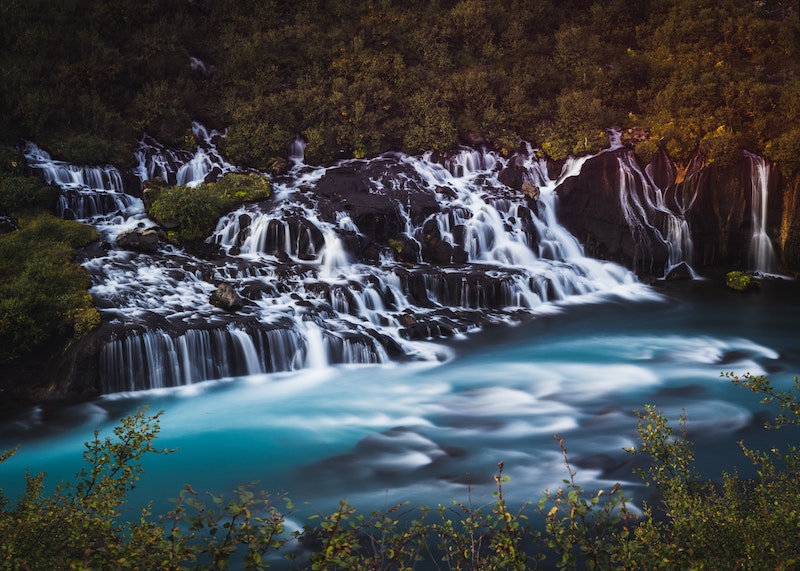 Nestled in the forests of West Iceland, Hraunfossar is not to be missed! Hraunfossar waterfall translates to "Lava Falls" as it filters for 50 years through the lava fields to make it to this exact location. This is an ethereal scene that many tourists and locals flock to.

Here, the nearby lava fields converge with the glaciers to create an  incredible array of waterfalls. You won't just see one magnificent Iceland waterfall, but numerous ones! They wind up and down the cascading stone like roots  and provide for that magical, earthy importance.
Running from underneath the Hallmundarhraun Lava field created in a volcanic eruption from Langjokull glacier over two thousand years ago. Combination of lava and water gives this place such a magical beauty.
2. Barnafoss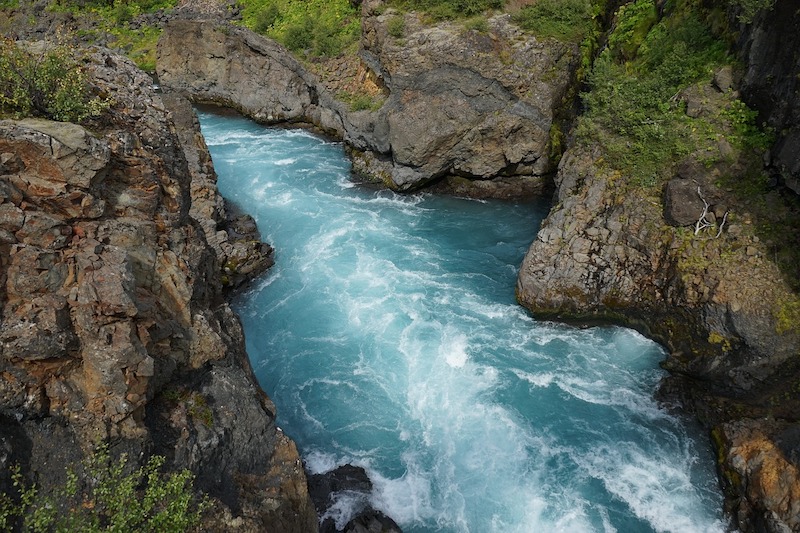 "Children's waterfall" in Icelandic, the charming neighbor of Hraunfossar! Here the water is electric blue and you can  watch as it winds by in the Hvítá River. This is one of the most  family friendly and easy access locations on this list. That means if you're looking to  bring the whole family on a trip to Iceland's waterfalls: this is the one for you! There's even a bridge that crosses the river for some above the action views!
The name comes from a telltale that hundreds of years ago farmers off a nearby farm went to church, leaving two young boys at home. Being bored at home the boys decided to walk to the church themselves and knew a shortcut by crossing over by the waterfall. A lava arc formed a bridge over the waterfall, that later broke in an earthquake, and there they would cross.

Feeling dizzy and insecure while passing, both boys fell into the waterfall and drowned. This story might also have been told to children in order to stay away from this place due to its danger. We will never know!
3. Svartifoss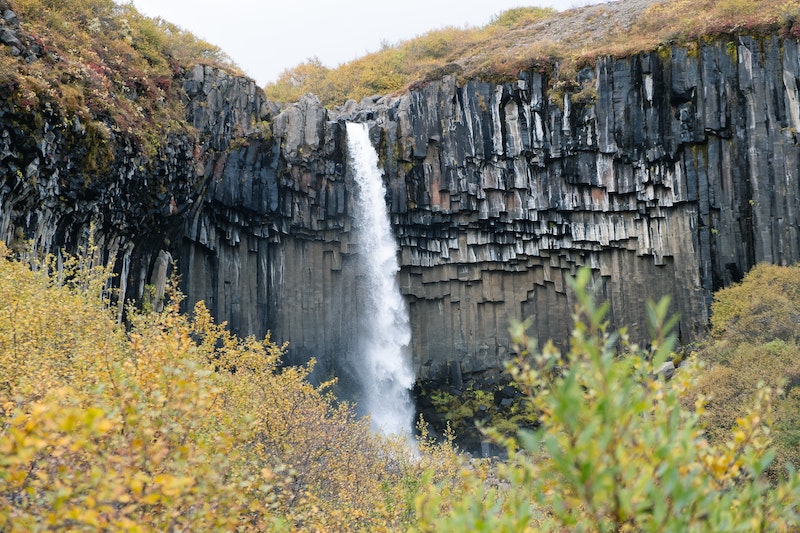 Translated from Icelandic, Svartifoss means "Black Waterfall". This name is given because  the rocks at the base and sides of the waterfall are a deep, midnight black where as the water is a sharp white. This creates a dazzling contrast that draws the eye and every camera in sight. Here, no descriptor really does this incredible sight justice.

The rocks at the top are cut and jagged, and the pathway at the bottom winding and  relaxing. This is one place in Icelandic nature you'll never forget having seen.

Hallgrimskirkja church in Reykjavik city was inspired by the rock forms at Svartifoss. You will notice the similarities right away when you have seen both.
4. Aldeyjarfoss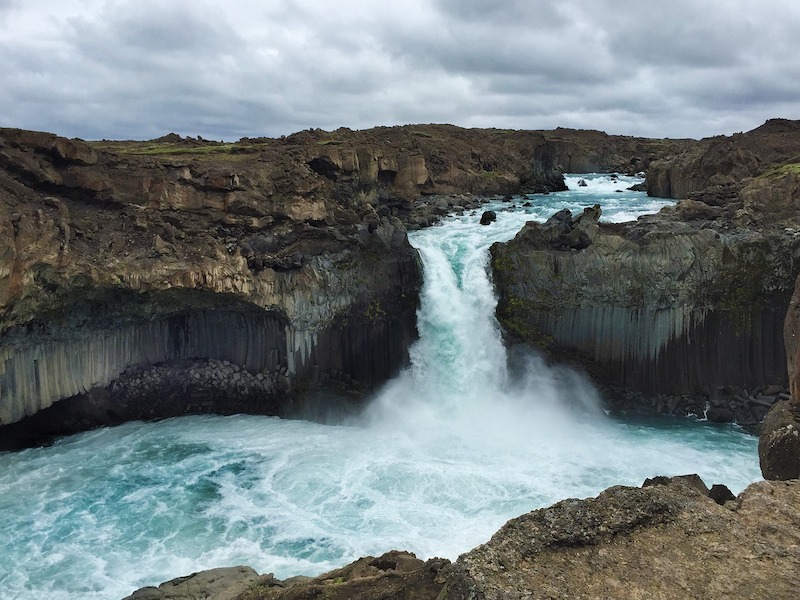 Settled at an impressive 20 meter cascade, Aldeyjarfoss is one of the best place to  visit in all of Iceland! Found in the remarkable Skjálfandafljót River, this waterfall rests between twin basalt columns that direct attention to the water flowing in the middle. The dark of the basalt highlights the white of the water and makes for a scene that looks out of this world.

During winter, everything is coated in a fine layer of snow and ice, so be  sure to bring the right equipment if you plan on venturing out to Aldeyjarfoss.

This Iceland waterfall is considered, by many, as Icelands most beautiful and therefor well suited on the Iceland top 10 waterfall list.

Please note that you have to have a 4x4 (AWD) to drive the F-26 highland road. Not to worry, we have the right Iceland camper van for the job.
5. Gullfoss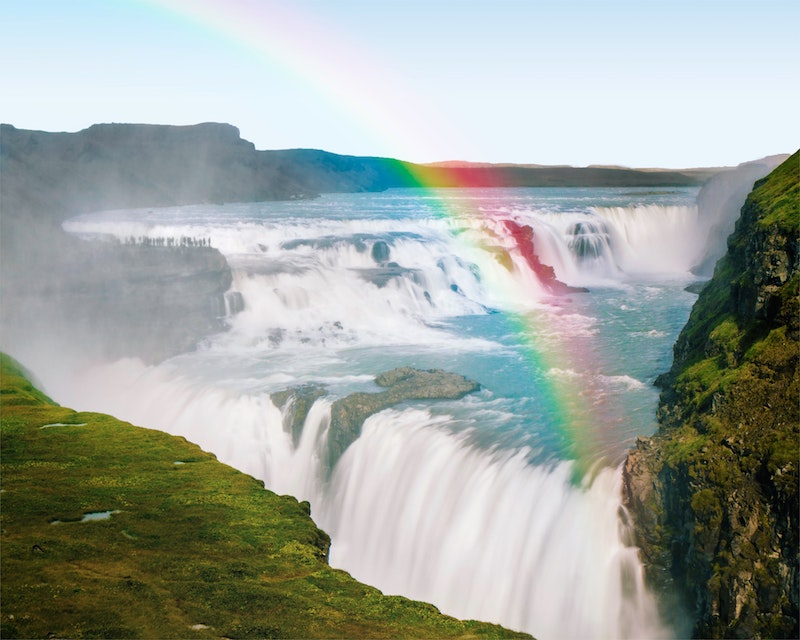 What's better than one waterfall? That's right --- two waterfalls! Here at Gullfoss, or  "Golden Waterfall" there are two cascading tiers to admire. This is considered one of  the most popular attractions, and even offers a viewing deck that gets you right up in  the action!

You can get so close that you feel the mist from the falls hit your face Here you can take a few quick pictures with one of the premiere destinations in all of Iceland. 

The Daughter of a nearby farmer, widely seen as Iceland's first environmentalist, fought hard to preserve the waterfall and its surrounding. County council had signed a deal for a hydroelectric dam that would have destroyed this beautiful area.

You can read more about her efforts in the link above. We owe this woman a lot today. You can show her your respect on location as there is a memory stone with her face on it close to the waterfall.
6. Seljalandsfoss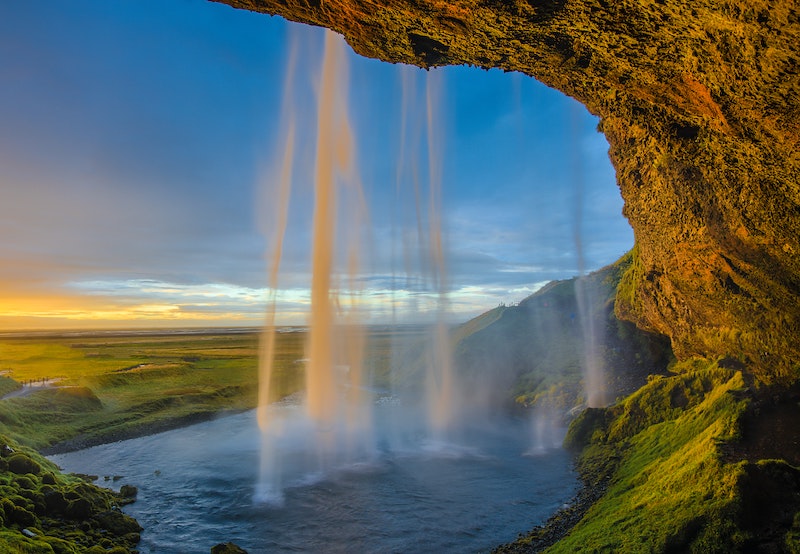 Another high on the list of 'most popular Iceland waterfalls' comes the stunning  views of Seljalandfoss. This is a cascading waterfall that opens up underneath and  allows for visitors to walk in and through the cavern. Because of this, it is typically regarded as one of the best waterfalls in Icelandic nature for pictures.

Here you can snap a  pic with the waterfall directly behind you and the vast, sprawling beauty of Iceland in the background. This Iceland waterfall pours into a charming pool-like area that narrows  and winds down the length of the South Coast. Truly a place not to be missed.

Secret Iceland waterfall tip: Visit the hidden secret, waterfall Gljufrabui, just five minutes from Seljalandsfoss waterfall. We leave the investigative work to you. Makes for an exciting exploration on your Iceland dream holiday.
7. Skógafoss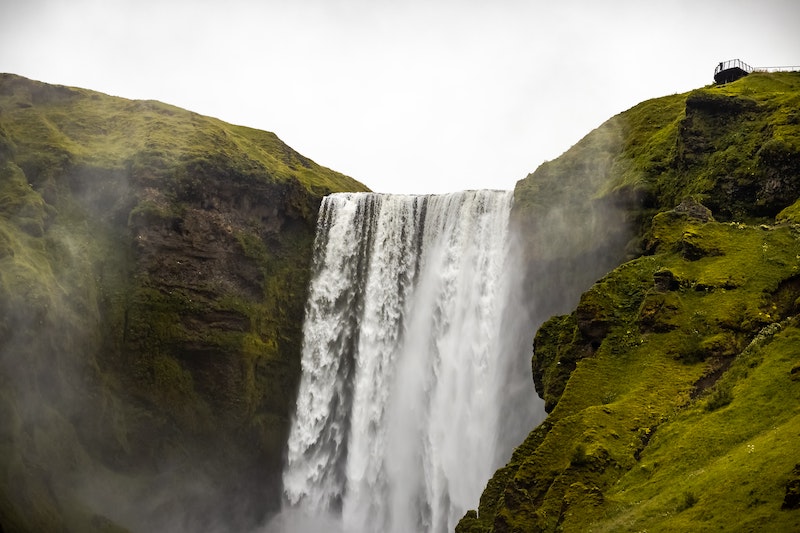 Also located on Iceland South Shore route, comes another of this country's name to natural  beauty fame. Skógafoss waterfall, pictured at top of the article, is another popular destination for those chasing Iceland waterfalls. Spanning 60 meters high (200ft) this is a truly majestic place to be in. 

You can get up close and personal so it is better to have proper rain gear at hand. A fact that many adventurers and tourists take advantage of by standing in the middle of all its 25 meter wide glory. This place feels larger than life as you explore such a dramatic scene on your trip to Iceland.

It is said that the first Viking settler hid a treasure chest in a small cave behind the waterfall. We do not recommend you try to find it though due to the immense power of the dropping water.

On the eastern bank starts the famous trail of up to the pass of Fimmvorduhals and into Thorsmork. If you got the skills and time, we highly recommend you taken on the Glacier and volcanic route.
8. Glymur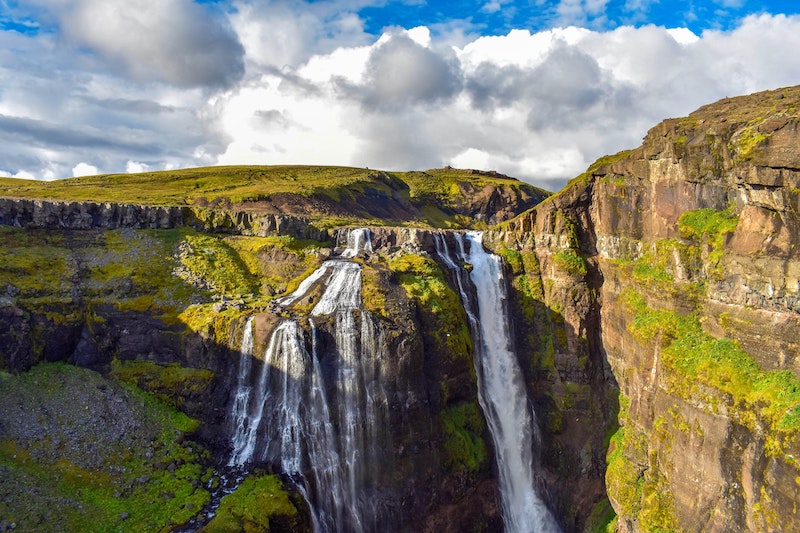 198 meters high (650ft), makes it a true and magnificent Icelandic natural wonder! Just an hour and a half out of Reykjavik city, Glymur Waterfall is one of the best things to do in all of Iceland! It takes  a two hour hike to get to the top above the waterfall, and is considered at least mildly strenuous.

So if you want to see one of the greatest sights and enjoy an  appropriately difficult hike, look to Glymur waterfall!
9. Háifoss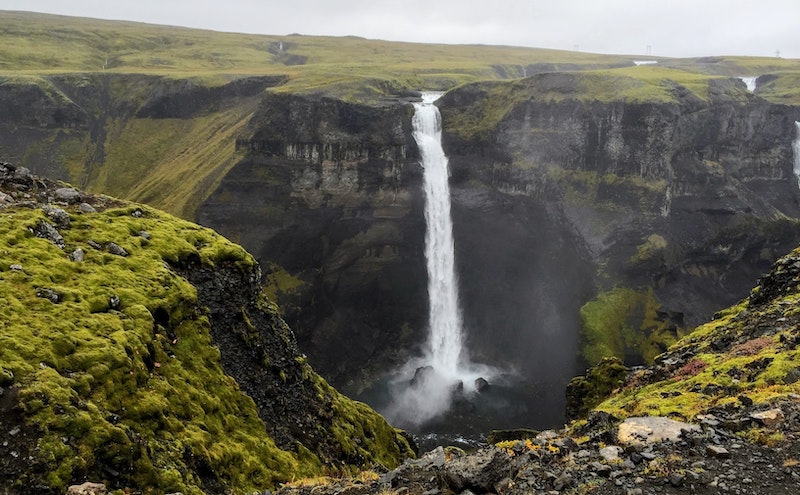 Translating to "High Falls", this Iceland waterfall is standing proud at 122 meters tall. Háifoss waterfall is one of Mother Nature's finest masterpieces! Here you will need some kind of 4WD vehicle to get through the path and to the mouth of the waterfall but it is well worth  the preparation!

Háifoss is found just around the corner from the volcano Hekla in the Southern region of Iceland. It is also regarded as the fourth highest waterfall on the island, as well as one of the most beautiful! 
10. Dettifoss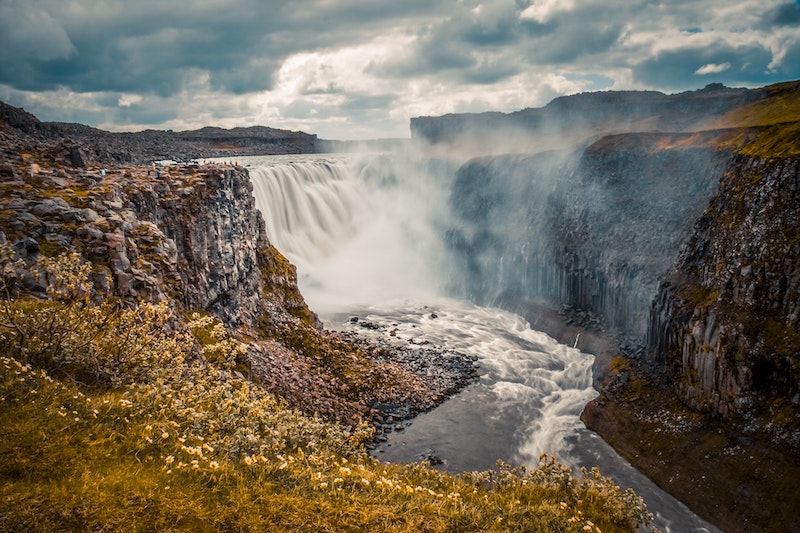 You might also recognize this one by the name "The Beast". And with good reason!  This is a massive, sprawling waterfall that stretches over the length of the observation area mere feet in front of it. It is the second most powerful waterfall in not just Iceland, but all of Europe!

That means over 190 m3 of rushing water hitting the banks of this attraction every second! If you stand close enough, you can even feel the  ground tremble with the force! It is so impressive and beautiful that even movies took  notice! Yes, this is the location of Ridley Scotts 2012's blockbuster Prometheus !
This what makes Icelandic Nature so great!
The diversity in Iceland nature is what is so compelling. We have had so many stories from our Iceland camper van customers. They are in awe of the mystique and beauty that Iceland has to offer. Most have said that traveling Iceland in a camper van is what made their dream vacation.

Our comfortable camper vans and 4x4 camper vans is what really makes the difference in freedom to explore this "little" island. Don't hesitate to contact us for further information regarding your exotic holiday.
[Go Back]